French-made cisterns: from the beginning and forever
While increased offshoring in all sectors of the French economy is prevalent, when we created CITERNEO, we chose to establish our whole production process in France in a social responsibility perspective.
After several moves to absorb strong growth, we finally established our factory in Amboise (37), loyal to the Centre-Val-de-Loire region which witnessed our birth and growth. At the end of 2016, the production surface area was extended. We now have a workshop that covers 3000 m².
All our flexible cisterns, from 1 to 2,000 m³, are made in Amboise:
the fabric widths are cut and soldered on-site,
the fabric is punched on-site,
equipment is pre-assembled on-site to guarantee perfect water-tightness when filling and emptying the cisterns,
the cisterns are even packed on-site.
In tune with this logic, our equipment is also mainly made by a French company, just a few hundred metres from our premises.
Choosing CITERNEO means creating jobs and developing the economy in France
With 3,000 m² of production space, an in-house lab and constantly increasing payroll, we currently employ almost 30 people locally, a figure that will considerably rise in the future!
Choosing CITERNEO flexible cisterns
means opting for French quality and know-how,
encouraging French industry,
creating jobs locally.
CITERNEO is "Origine France Garantie" certified.
It is with great pride that we received "Origine France Garantie" certification, in April 2021.
It was also an acknowledgement of all CITERNEO employees as we are the leading manufacturer of flexible tanks to achieve this certification.
In addition to the ISO 9001 and CSTB (Fire tanks) certifications, the Origine France Garantie label demonstrates CITERNEO's commitment to offer innovative products to serve the environment.
List of Origine France Garantie-certified ranges: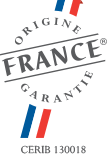 Fire control water tank (DECI)
Flexible water storage tank
Flexible drinking water storage tank (food-grade)
LA CITERNE VERTE rainwater collector
Flexible liquid fertiliser storage tank
Flexible wastewater storage tank
Retention on wall and slope
DESHERBACHE landscape cloth
Choosing CITERNEO means joining an innovative and dynamic company
CITERNEO's permanent growth regularly creates new job opportunities. We encourage motivated candidates to join a company that is determinedly driven by tomorrow's challenges. We invite you to send your application through our contact form.